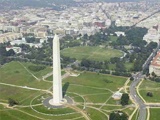 US-Azerbaijan relations and the role of the Diaspora will be discussed at the Capitol Hill, US Congress building on December 11th, APA's Washington DC correspondent was told by the Azeri Diaspora members.
The conference, organized by the US Azeris Network (USAN) will discuss "Karabakh factor in the US-Azerbaijan relations and the role of the Azerbaijani-American diaspora" at the Committee Room in the US Congress.
Political analysts and officials will discuss such issues as the main challenges towards peace and stability.
The conference will be attended by Lt. Naimi Amiraliyev, an Azerbaijani-American running for Delegate in Virginia, Diana Altman Cohen, Executive Director of Karabakh Foundation in Washington DC. Reportedly, more speakers will be in added to the final program.
/APA/