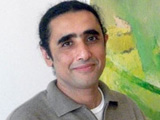 Exhibition of Azerbaijani artist Shahin Shikhaliev titled "Homeward Bound: The path from Azerbaijan", organized by the Karabakh Foundation, has opened in Blank Space art gallery in Washington.
Shikhaliev, graduate of Azimzade Art School of Azerbaijan, has been living in Washington for 10 years already. The artist has crated the works demonstrated at the exhibition in Washington.  Americans says although Shahin works in an abstract genre, the spirit of Azerbaijan is felt in his works.
The exhibition will last for two weeks. Representatives of Nagorno-Karabakh Foundation distribute leaflets about the history of Karabakh to visitors as part of the exhibition.
/Vesti.az/