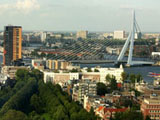 A bas-relief dedicated to Baku will be opened on the Baku St in Rotterdam, the Netherlands, the Azerbaijani State Committee for Diaspora Affairs reported. Opening of the bas-relief will be held under the joint project of the Congress of Azerbaijanis in the Benelux countries and the Azerbaijani Embassy in the Netherlands.
The opening of the bas-relief is intended to familiarize the local residents and visitors with  Baku. One of the streets in Rotterdam was named after Baku when the Baku oil first reached the port of Rotterdam in 1950.
Honorary president of the Congress of Azerbaijanis in the Benelux countries Sahil Gasimov said the opening of this bas-relief serves to promote Baku.
"We want the residents of this street, the city population, visitors and tourists were not satisfied just hearing the name of the street, but learn about Baku through the bas-relief," Gasimov said.
He said familiarity with Baku will not end only with the opening of the bas-relief. "We will hold the Day of Azerbaijan in one of the great salons on the Baku St., will show a film about the country and concert of national music and songs. The event will be attended by officials of the Netherlands, representatives of Azerbaijan and the diplomatic corps.
Annual cultural events will be organized on the Baku St. beginning from 2011 to familiarize the residents with Azerbaijan.
"The Dutch company is engaged in construction of new port in the Alat settlement in the Garadag district of Baku. After its commissioning, we will initiate to announce the Rotterdam and the Garadag district brother areas," he said.
/Trend/