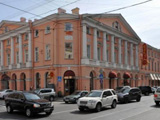 Azerbaijani diaspora St. Petersburg, Russia is becoming more influential day by day. The Azerbaijani businessmen will reconstruct the historical building in downtown on Sadovaya Street. The Azerbaijani businessmen will now own a building that houses "Baku" and "Czar" restaurants on the 12 Sadovaya Street.  
Earlier it was reported that the historical building will be overhauled by City Stroy-invest company owned by Russian businessman. However, St. Petersburg mayor refuted the reports, according to "Delovoy Petersburg" newspaper.
It became known that the Azerbaijani businessmen are going to buy this company soon. Azerbaijan's Consul General to St. Petersburg Gudsi Osmanov is also actively involved in talks on fate of the building. The consul general said both Russian and Azerbaijani businessmen will be involved in the reconstruction project. International Bank of Azerbaijan has issued $10 million for the overhaul.
The company will soon be headed by Azerbaijani Sevda Meshadi-Qafarzade, who worked as assistant to the consul general a couple of years ago. According to the decree of the St. Petersburg city administration, City Stroy-invest is tasked to overhaul the building into culture and entertainment center.
/Vesti.az/