One of the people injured in blast in Pyatigorsk is an Azerbaijani citizen.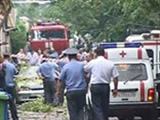 Sixteen-year-old Garib Hasanov, who lives in the St. Alley of Builders, building 84, in Pyatigorsk, received a serious eye injury in the blast at the Kirov Avenue. The victim was taken to a clinic in Moscow, Pyatigorsk Central Hospital Neurosurgery Department told Trend today.
A car exploded on Tuesday at 16:30 near a small restaurant in the centre of the southern Russian city of Pyatigorsk on Tuesday. A criminal case has been launched on charges of terrorism, RIA Novosti reported.
According to specified data, at least 27 people were injured after a Lada car exploded at the Kirov Avenue. At present, 22 people receive treatment at the hospital; four of them are in the resuscitation department. According to the last data of the Russian Emergency Situations Ministry's Federal Fire Service on Pyatigorsk, 26 people injured in the blast, three of them are in serious condition. Presently, Azerbaijani Embassy in Russia clarifies the injured Azerbaijani citizen's health condition.
/Trend/