No citizens of Azerbaijan are among the victims of floods in Pakistan, according to Azerbaijani embassy in Pakistan.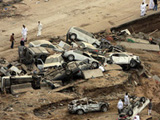 "We have not received information about injured or killed citizens of Azerbaijan. In areas affected by the disaster live mostly Pakistanis. There are almost no foreigners there." Embassy employee Vusal Suleimanov told Trend.
Continuing floods and monsoon rains have reportedly killed more than 1,400 people and marooned another 30,000 in three of the five provinces in Pakistan as of Sunday.
The new string of monsoon rains would enter Pakistan by Monday evening, Chief Meteorologist Muhammad Riaz predicted on Sunday. The heavy rains would hit Lower and Central Sindh areas of Hyderabad, Mirpurkhas and Sukkur, Upper part of Balochistan, Dera Ghazi Khan in Punjab and Khyber Pakhtunkhwa province, he said in an interview with the local media.  
"River floods entering Sindh would be there in next four days," said Riaz, adding " it would be devastating" as the concerned authorities are taking preventive measures.
All Pakistani rivers are in high-level floods which would continue to pass through various areas of the country during the week spreading misery, deaths and breaking out epidemics. Sindh chief minister Syed Qaim Ali Shah said that the forthcoming rain and floods would affect some 400,000 people in the southern province.
The United Nations, United States and China are in the forthcoming to extend assistance for flood relief and rescue as Pakistan appealed to the international community for help to deal with the natural calamity.
The Chinese Embassy in Islamabad has extended an immediate token assistance of Rs. 600,000 for Khyber Pakhtunkhwa province. Over 200 Chinese engineers and workers have been rescued from floods in projects in Malakand area. The United Nations agencies estimated a million people were affected by the calamity, over 45 link-bridges destroyed and some 3,700 homes washed away in Pakistan so far.
/Trend/