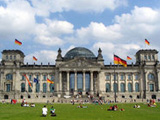 The German-Azerbaijani Relations Development Center GEFDAB organized an event devoted to fate of Azerbaijanis, who become refugees in the Armenian-Azerbaijani war, the community reported. The event entitled "Persecution and exile - a crime against humanity" was devoted to the World Refugee Day and discussed the fate of all refugees.
"Disasters related to persecution and expulsion, massacres, torture of civilians, the traumatic experiences and helplessness, loss of homeland - all of these are general effects of war, which confirmed in the case of the Nagorno-Karabakh war," German Ex-State Secretary Eduard Lintner said at the event.
The event aimed to point out that regardless of ethnicity and the outcome or perceived causes of war, refugees and IDPs have the right to return to their homes and nobody has the right to obstacle this.
/Trend/