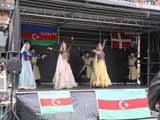 Azerbaijan's embassy in the United Kingdom, which is also accredited to Denmark, Azerbaijani European Society and Azerbaijani community in Denmark organized a celebrative event marking May 28 - Azerbaijan's Republic Day in Ratusha Square in Copenhagen on May 29, the Azerbaijani embassy in the United Kingdom said.
The event brought together representatives of diplomatic corpses and international organizations in this country as well as members of the Azerbaijani and Turkish communities.
In his speech to the event, Azerbaijani ambassador Fakhraddin Gurbanov told about historical significance of this day and offered holiday greeting to the Azerbaijani community.
The event also featured a photo exhibition showcasing ancient and modern Azerbaijani art, consequences of Armenian aggression towards Azerbaijan and national cuisine. Azerbaijan's State Dance Ensemble and honored artist Azerin performed a concert for the event participants.
/Today.Az/
Click photos to enlarge: