New York–The 92nd anniversary of the establishment of Azerbaijan Democratic Republic of 1918 was celebrated in New York City by the raising of the Azerbaijan national flag on Broadway in lower Manhattan on Friday May 29, 2010.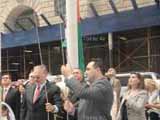 The Azerbaijan flag flew alongside the American flag, which had also been raised to acknowledge the many Azerbaijani-Americans in the U.S. The two flagpoles stand just steps away from the famous sculpture of a charging bull, a Wall Street symbol and a landmark known worldwide. After a previous day of drenching rain, Friday, May 28 enjoyed clear skies as a crowd gathered at noon for the ceremony.
Speakers included, Tofiq Musayev of the Permanent Mission of Azerbaijan to the United Nations, who spoke about the solidarity between the United States and Azerbaijan and talked about the importance of May 28.
Consul Ayse Uzer of Turkey spoke about the brotherly relations of Turkish and Azerbaijani communities in Turkey and she repeated the words of the founding father of Turkish Republic Musftafa Kemal Ataturk, "Azerbaijan's sorrow is our sorrow, and their happiness is our happiness".
Mr. Arthur Piccolo, Chairman of the Bowling Green Association, spoke about the history of that part of New York City and the importance it played in America's fight for its own Independence from England 234 years ago.
Deputy Consul General of Israel, Honorable Benjamin Krasna spoke about the importance of good relations between Israel and the Turkic world and he thanked the organizers for the invitation.  Dr. Erhan Atay spoke about his long time involvement with Azerbaijan Society of America and the importance of Turkish and Azerbaijani Diaspora to be united and work as one.
Michele-Clarke Ceres, head of protocol from the office of New York Governor David Paterson, read a proclamation acknowledging May 28 as the Azerbaijan Republic Day.
Regina Andriolo, NYC Vice President of ASA and the adopted parent of a nine-year-old boy originally from Baku, Azerbaijan, was the moderator. Regina who is an Italian-American stressed the importance of working and getting involved with other ethnic groups in US and realizing joint events.
Kavkaz JYC with Director Luba Yusupov children dance troupe dressed up in beautiful Azerbaijani costumes brought so much attention from the crowd.
Azerbaijani-American Council and the Azerbaijan Society of America are committed to nurturing the relationship between Azerbaijan and America. Together we will continue to be part of a bridge between the two countries.
Following the playing of the American National anthem, the Azerbaijani National anthem was played and the two flags were hoisted. Brisk gusts of wind caught the two flags, which flapped majestically against the towering backdrop of the "skyscraper" towers of Manhattan. It was an emotional moment for all involved and with this we send our heartfelt congratulations to the government and the people of Azerbaijan on this special day as we look forward to the continued growth, prosperity and happiness of the nation.
/Today.Az/
Click photos to enlarge: