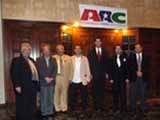 The 92nd anniversary of the Azerbaijan Democratic Republic was marked in Irvine, Calif., with the participation of representatives of local administration and the Azerbaijani and Turkish communities, the Azerbaijani-American Council (AAC) reported.
Opening the event, AAC General Director Javid Huseynov spoke about the historical role of Azerbaijan as the first secular democratic state in the Middle East and the Islamic world.
The Azerbaijan Democratic Republic was established May 28, 1918, and became the first democratic republic, not only in Azerbaijan but also throughout the East. The ADR had a parliamentary form of government and adopted state attributes - the flag, emblem and anthem. The republic destroyed after 23 months in connection with the occupation of Baku by the 11th Red Army 28 April, 1920.
Candidate for lieutenant governor of Nevada, a native of Azerbaijan, Paul Murad spoke about the historical impact of the Azerbaijani people's democratic values on the formation of his outlook and his decision to participate in the political life of the United States.
Famous Azerbaijani singer Javid Hussein performed in the musical program of the event. The representatives of Orange County addressed a congratulatory proclamation to the AAC in connection with the 92nd anniversary of the ADR. The Republic Day May 28 is the day of the restoration of state independence and Azerbaijan has been celebrating this date as a state holiday since 1990.
/
Trend
/
Click photos to enlarge: