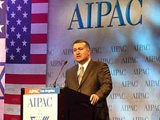 Representatives of Azerbaijani General Consulate  in Los Angeles took part in the gala night organized by American Israel Public Affairs Committee. Thousands of active members of Jewish community in the United States, officials, congressmen and representatives of Executive Power attended the night.
Along with the members of US Congress and Israeli Knesset, only Israeli and Azerbaijani Consul Generals in Los-Angeles were invited form diplomatic corps. Delivering speech at the event, Consul General Elin Suleymanov spoke about tolerant traditions of Azerbaijan.
Touching upon affectionate friendly relations between Azerbaijan and Israel, the Consul General called it as an example for intercultural dialogue. He informed the guests about Azerbaijani President Ilham Aliyev's efforts to enhance intercivilizations dialogue. Speaking about the process of solution to Nagorno-Karabakh conflict, Suleymanov said that Azerbaijan hopes that peace and stability will be established in the region soon.
/
APA
/