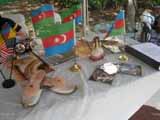 On February 20-21, 2010, the Azerbaijani-American community of Florida took an active part in the 4th annual Turkish Festival in Ft. Lauderdale (Florida). The organization of the Azerbaijani Culture desk at the Festival was led by Mrs. Tohfa Eminova, the President of the local Azerbaijani-American Association (AACA) and Mr. Azhdar Eminov, both U.S. Azeris Network (USAN) activists and leaders of the Azerbaijani-American community in Florida.
Visitors could get acquainted with geographic, historic and touristic maps of Azerbaijan, listen to folk music, view traditional costumes, as well as review literature and publications about Azerbaijani Turkic culture, history and arts. Materials about USAN were also on display, showcasing advocacy efforts by the Azerbaijani-Americans.
The two day festival showcased the richness of Turkic history, culture, music, dance, cuisine, art, and literature, as well as introduced and promoted the tourism, trade and economic potential of Turkey, Azerbaijan and the Turkic world. The Turkish festivals are attended by thousands of visitors each year, and are annual events held in major metropolitan areas of the United States, such as Washington D.C., New York, Houston, Boston, and other cities. USAN has been regularly participating at the Turkish Festivals and Parades in Washington DC and New York.
/Today.Az/

Click pictures to enlarge: