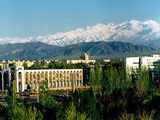 The Embassy of Azerbaijan in Kyrgyzstan has organized an event to mark 31 December – Solidarity Day of World Azerbaijanis and New Year. The event brought together diplomats, representatives of the Kyrgyz-Turkish Manas University, public and political figures, members of the Azerbaijani community, journalists.
Opening the event, ambassador Arif Agayev said the Solidarity Day of World Azerbaijanis was marked for the first time in Nakhchivan in 1991 at the initiative of national leader Heydar Aliyev.
The diplomat touched upon a bill adopted by the French parliament that would criminalize any public denial of the so-called Armenian genocide, calling it disgrace for this country.
The event was also addressed by Kazakh ambassador to Kyrgyzstan Beybit Isabaev, prorector of Kyrgyz-Turkish Manas University Sabahaddin Balci, prorector of Kyrgyz State University named after Arabayev Emil Kanimetov.
/
AzerTAc
/