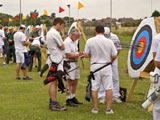 Turkish city Antalya hosted the international tournament on archery.
Coach of Azerbaijan Marina Tselikovskaya said that two Azerbaijani archers attended the event. Roman Vengerov scored 282 points and ranked  53rd while Dmitri Dankov scored 1236 points and ranked 19th.
The athletes stayed in Turkey and on April 12 will attend the Grand Prix in the same city.
/Vesti.az/