Azerbaijani Neftchi football club has carried out its first winter transfer.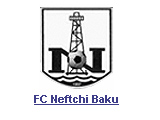 The club has signed with former player for French "Lion" and also former player of Algeria's youth team Yacine Hima. 
"I am glad that talks with the Neftchi leadership proved fruitful. I have played only one match in this team. During my short presence in the club I realized that Neftchi has a strong team," Hima added.
"My visit to Antalya aimed at signing contracts with the players. Yacine Hima is now a player of Neftchi. We will sign a contract with another foreign player in coming days," said Neftchi President Sadig Sadigov said in his turn.
/Azerisport.com/