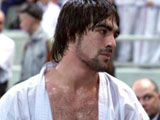 World Karate Championship continues in Belgrade. According to Vesti.az, azerbaijani fighters already got 2 medals in the tournament.
Numerous World and European champion Raphael Aghayev (75 kg) once again proved to be the best karate fighter in the world, defeating Italian fighter Luigi Busu with a 5:1 score. Shahin Atamov (over 84 kg) reached semifinals, but lost to Serbian fighter Deyan Umichevich. Later on, Atamov beat Barbosa Rodrigues from Brazil, and therefore became a bronze finalist.
Aynur Mammadova (55kg) was close to capturing a medal, but lost to american fighter, and settled for 5th place.
/Vesti.Az/
Related articles:


Azerbaijani karate fighter Raphael Aghayev to fight for golden medal against the Italian
Azerbaijani karate fighters to attend world championship