Azerbaijan's U-17 national football team has lost the qualifying round of European Championship 2011.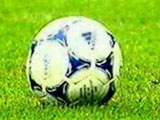 In final third match of Group 5 held in Portugal, Azerbaijan's team lost to Montenegro with a score of 1:2.
After an empty first half, Namik Alasgarov scored a goal on the 67th minute of the game. But Igor Pochek and Nebojsa Kosovich scored a goal at the 71st and 72nd minute respectively securing victory of the Balkan team.
In another match Portugal defeated Northern Ireland by 3:1. As a result, Azerbaijani team lost all three matches with zero points and goal difference of 1.10 ranked last.
/Vesti.az/