World Karate Championship under World Karate Federation version will be held in Belgrade, Serbia on October 27-30.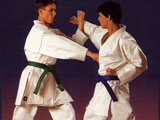 In a personal kumite tournament, Azerbaijan will represented by Niyazi Aliyev (67 kg), Rafael Agayev (75 kg), Israfil Shirinov (84 kg) and Aynur Mammadova (55 kg). In kata tournament, the country will be represented by Elvin Eyvazov.
In a team kumite, athletes Rafael Agayev, Amal Atayev, Shahin Atamov, Niyazi Aliyev, Sanan Aliyev, Rashad Huseynov and Israfil Shirinov will vie for medals.
Elvin Eyvazov, Tural Baljanli and Musa Musayev will represent the country in a team kata.
/Vesti.az/