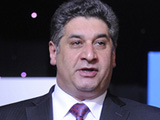 About 12 sportsmen and three referees from Azerbaijan will attend the first Summer Youth Olympic Games, Youth and Sports Minister Azad Rahimov said at a press-conference on preparations for the Olympics.
The first summer Youth Olympic games will be held in Singapore August 14-26, 2010.
"Azerbaijani athletes will compete in wrestling, boxing, rowing, tae kwon do, judo, weightlifting," Minister said. He added, that Azerbaijani team will leave for Singapore on Friday .
Over 3,500 athletes on 29 kinds of sport will compete in Singapore. Each type has its own age group: 15-16 years, 16-17 years or 17-18 years. The number of kinds of sport in the program is identical to the program for the Games of the XXX Olympiad in London in 2012.
/Trend/