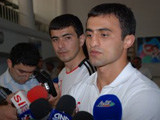 Azerbaijani national Greco-roman wrestling team started to prepare for the World Championship, which will be held in Moscow, on the 1st of September.
According to the press-service of the Azerbaijani Wrestling Federation, the training is being carried out in Gusar Olympic Complex. Head coach of the Azeri team, former champion Farid Mansurov said, that the training sessions will be held till August 11th, and the rest of the traning will be continued in Baku.
"We expected high results from our wrestlers, but they dissapointed us. This training will show, how much are they ready for the next challenge," said Mansurov.
"After the European Championship, Elchin Aliyev and Elvin Mursaliyev got out of shape. Both me and the Vice President of the Federation decided to  punish them. It should do them good, realize the mistakes, and train better," Mansurov added.
/1news.az/