Azerbaijan`s youth wrestling team will compete in the European championship kicking off Tuesday in Sarajevo, the capital of Bosnia and Herzegovina.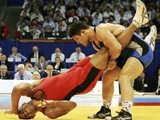 In the freestyle event Azerbaijan's squad will include Ruslan Surkhayev weighing in at 42 kg, Mirjalal Hasanzade at 46 kg, Parviz Ibrahimov at 50 kg, Farrukh Alakbarov at 54 kg, Ahmednabi Gvarzatilov at 58 kg, Mukhtar Sadullayev at 63 kg, Kamran Yunusov at 69 kg, Parviz Akhundov at 76 kg, Eljan Yusubzade at 85 kg and Sultanbek Krapivin at 100 kg.
In the Greco-Roman event Azerbaijan`s hopes will be pinned on Sahila Alakbarova (38 kg), Rufana Yusifova (43 kg), Aydan Safarli (46 kg), Kamala Aliyeva (49 kg), Solmaz Hashimzade (52 kg) and Farah Rasulova (59 kg).
In the women`s division Azeri coaches will field Karim Jafarov (42 kg), Murad Mammadov (46 kg), Huseyn Abbasov (50 kg), Rashad Shukurov (54 kg), Rovshan Taghıyev (58 kg), Jeyhun Aliyev (63 kg), Hajımurad Baghmanov (69 kg), Anar Rasulzade (76 kg), Hajımurad Chopsiyev (85 kg) and Royal Mirzayev (100 kg). Azeri referee Asif Shiraliyev and Elman Ismayılov will also officiate at the tournament.
/AzerTAc/