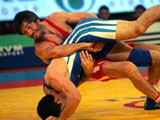 World Junior Wrestling Championship has wrapped up in Budapest. On the last day of the championship, Azerbaijani athlete Togrul Asgarov (55 kg) won silver medal. On his way to the pedestal, he defeated opponents from Canada, Egypt, Japan and Uzbekistan, but lost to wrestler from Georgia in the final.



19:55
July 25
--------------
Azerbaijani wrestlers grabbed 4 medals on the first day of the Championship tournament in Budapest, Hungary. So far, the team has 2 silver and 2 broze medals. Umid Mammadov (60kg) defeated his opponents from Japan, Moldova, Iran, and Kazakhstan, however was overpowered by a Russian athlete in the finals. Aslanbek Alborov (96 kg) also managed to beat his opponents from Turkey, Slovakia, and Hungary, but also suffered a defeat from Russian in the finals.
Bronze medals belong to Nijat Muradov (50kg), and Ibrahim Yusifov (74kg). Muradov beat his rivals from Uzbekistan, Kyrgyzstan, Iran, then lost to Russian wrestler, but managed to beat his Armenian opponent afterwards, to capture the bronze. Yusifov, in his turn, managed to beat wrestler from Uzbekistan, however then suffered a defeat from Turkish wrestler. After that, he defeated his German, Bulgarian and Kyrgyz opponents.
/1news.az, Day.Az/