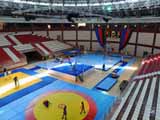 Athletics competition among orphans and children with disabilities will be held on April 15-16, the National Paralympic Committee of Azerbaijan said.
The competition will be attended by teachers of boarding schools No. 11, No. 1 and No. 16 of Sabunchu District of Baku as well as the boarding school named after Azizbayov for children with speech disabilities, boarding school No. 11 of Nasimi District and the boarding of Sumgait city.
According to the Committee, these competitions are a preparatory step to the Paralympic Games of Europe, which will be held in Warsaw in September 2010, as well as for the world Paralympic Games scheduled to take place in Athens in June 2011.
/Trend Life/