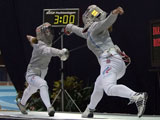 The World Fencing Tournament among youth & Cadets wrapped up in Baku Sport & Concert Complex named after Heydar Aliyev.
On the final day of the tournament, athletes of sword and foil categories were participating. Azerbaijani team participated in "swords", but lost in the first match to Canadian team (28:45), and finished in 17th place. First place was captured by Ukrainian team, Poland took the 2nd, and Italy was 3rd.
As for the "foil", the American team was the best, defeating Italy in the finals. The 3rd place was taken by Germany.
Overall, German team won 3 gold medals, and 2 silver medals. Second place took the U.S. team (3-1-4). Ukraine was 3rd (3-1-2).
/Day.Az/