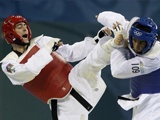 The 22nd international taekwondo tournament is underway in Tehran, Iran, where Azerbaijani athletes participate as well.
On the first day of the competition, Azerbaijani fighters won 2 medals. Elvin Mamedov managed to capture the gold medal. He defeated his Armenian opponent Levon Pashabezyan, Iranian athletes Mehsam Garramanli and Alirza Nasr Azadani. In the finals he defeated the Russian fighter Magomed Ibrahimov.
Samir Aydinov won the silver medal. During the tournament, he managed to overpower his rivals from Iraq, India, Iran, but lost in the finals to other Iranian athlete Ali Shakeri.
/Day.Az/