Swiss tennis player Erwin Leskovich has won Baku Cup-1 international tournament of F1 Futures series. The tournament took place at Baku Tennis Academy.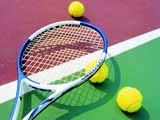 Petry–Alexandru Lunchanu (Romania) and Matve Middlecup (the Netherlands) won the doubles game.
The tournament, which is put on the International Tennis Federation calendar, has brought together 64 competitors from 26 countries.
/AzerTac/