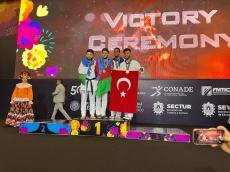 Azerbaijani para taekwondo athlete Imamaddin Khalilov (K-44) won the title of world champion. The athlete, who competed at 70 kg, achieved this success at the world championships held in Veracruz, Mexico, Azernews reports, citing the Taekwondo Federation.
The Federation noted that Khalilov, who was released from the 1/16 finals, faced a Spanish para taekwondo athlete in his first fight. The Azerbaijani athlete defeated the world and European champion with a score of 7:3. He then knocked out the Georgian athlete - 16:2. Imameddin fought with the representative of Cuba in the semi-finals. In a tense match, the member of the national team won with a score of 12:9.
The Azerbaijani para taekwondo athlete's opponent in the final was from Uzbekistan. Khalilov won this time with a score of 5:2, won the title of world champion and sang the Azerbaijani national anthem in Mexico. With this, Imameddin won the 6th prize in the 6 competitions he participated in. The para taekwondo athlete, who won first place in the European Paralympic Games in the Netherlands, the open World Challenge Race in South Korea, and the Grand Prix in Mexico, was second in the European Open Championship in France and third in the Grand Prix in Paris.