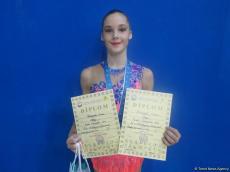 By Azernews
By Abdul Kerimkhanov
Azerbaijani gymnast Elizabeth Luzan became the champion of the Youth Olympic Games held in the capital of Argentina, Buenos Aires.
Athlete from Azerbaijan won a gold medal in the competition of mixed teams in all gymnastics disciplines, according to the new format of the Olympic Games.
All participants were divided into 12 teams that received the names of the stars of world gymnastics.
Luzan joined the team of four-time Olympic champion Simone Biles along with athletes from Bulgaria, Australia, China, Singapore, Vietnam, Spain, Italy, Russia, Ukraine, South Africa and Hungary, representing sports and artistic gymnastics, jumping and acrobatics.
The team members, including Luzan, scored points in the team competition following personal performances and, as a result, Biles came first and Luzan tried on gold.
Thus, the assets of the Azerbaijani team are two "gold" and one "bronze" medals.
Earlier, national judoka Vugar Talibov (66 kg) won the gold medal, and taekwondo athlete Javad Agayev (63 kg) won a bronze medal.
The third Summer Youth Olympic Games are being held in Buenos Aires (Argentina) on October 6-18, 2018. Representatives from 206 countries are taking part in the competitions. The most numerous delegations were the national teams of Argentina, France, Russia, Mexico and Japan.