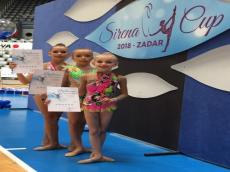 By Azernews
By Naila Huseynli
National eight-year-old gymnast, Mina Abbasova grabbed the gold medal of the International Rhythmic Gymnastics "Serian Cup – 2018" held on in Zadar, Croatia on September 29-30. 
More than 30 teams from Hungary, Ukraine, Czech Republic, Slovakia, Slovenia, Bulgaria, Austria and other countries participated in the competition which was organized with the support of the Croatian Artistic Gymnastics Federation. 
Despite having a large army of opponents, Azerbaijani gymnast managed to reach to the highest step in the individual competition among gymnasts. Thus, the talented gymnast won with a full score and grabbed her third gold medal for a month. 
Mina, born in Baku in 2010, is temporarily residing in Budapest in connection with her parents' work.
The young gymnast, who was distinguished by her brilliant performances at all international competitions, started her sports career at the age of five. She successfully participated in many international competitions in Germany, Serbia, Croatia, Italy and Slovenia. She is engaged in gymnastics for two years at the "Russian RG Sport" club in Budapest under the leadership of international referee Lyubov Bernat and Inga Mackus.
The gymnast also took first place in Gracia Cup in 2016. So far, Mina has claimed the best title in many competitions around the world.