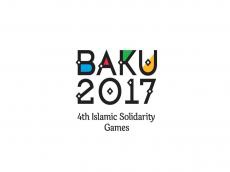 Kyrgyzstan will contest medals in 11 sports at the 4th Islamic Solidarity Games to be held in Baku next month, Azertac reported.
The Baku 2017 Islamic Solidarity Games is an exciting multi-sport event uniting the Islamic world, which will take place from 12 – 22 May 2017.
The Games will feature international athletes from all ISSF member countries
 alt=????? v:shapes="_x0000_i1025">, competing in 20 sports over 10 days of sporting competition. Around 500,000 spectators are expected to attend the Baku 2017 Islamic Solidarity Games, which will include an Opening and Closing ceremonies at the Baku Olympic Stadium.
Athletes from Islamic countries from around the world will be representing their nations over 10 days of competition across 20 different sports which include 23 disciplines (Athletics and Para Athletics, Aquatics – Diving, Aquatics – Swimming, Aquatics – Water Polo, Basketball 3x3, Football, Gymnastics – Artistic, Gymnastics – Rhythmic, Wushu, Table Tennis, Handball, Judo and Blind Judo, Wrestling – Greco, Wrestling – Freestyle, Shooting, Tennis, Volleyball, Boxing, Zurkhaneh, Karate, Taekwondo and Weightlifting) in 16 world-class sporting venues in Baku.
Baku was awarded the Games at the General Assembly of the Islamic Solidarity Sports Federation (ISSF) in Jeddah in July 2013.