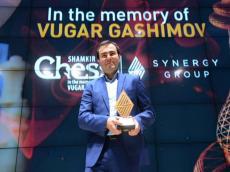 By Azernews
By Laman Ismayilova
Shahriyar Mammadyarov, the winner of the Shamkir Chess 2016 dedicated to Azerbaijan's late grandmaster Vugar Gashimov, said that the Gashimov Memorial has a specific place in his career.
"The Shamkir tournament is dedicated to the memory of our friend, the pride of Azerbaijan Vugar Gashimov," he said speaking ahead of the Shamkir Chess 2017. "For many years, we were teammates with Vugar. We always helped each other. This year, I got invitation from another tournament. However, I have decided to take part in Shamkir."
The Shamkir Chess 2017, the 4th edition of the tournament in memory of Gashimov, is scheduled for April 20-30
27-year old Gashimov, who was one of the world's top players for a decade and who helped lead Azerbaijani team to the gold medal in the European Team Chess Championship in 2009, died in January 2014.
Mammadyarov said that he will once again struggle for the top places.  "On the list of participants there's almost no weak player. All chess players have taken high places at the FIDE rating," he said adding that the absence of world champion Magnus Carlsen doesn't ease the fight.
"On the contrary, in his absence the number of the ambitious is growing. As the winner of the last competition, I will fight for the victory this year as well. I understand that it will not be easy. Breathing easily is not possible in the tournament where world champion Vladimir Kramnik, Veselin Topalov and Sergey Karjakin, who was nominated as the world champion are competing," he noted.
The GM also thanked the Organizing Committee and Synergy Group for the high-level organization.
"The organizers have managed to make the Shamkir tournament a traditional. By doing so they show a huge respect to Vugar Gashimov, as well as support the development of chess in Azerbaijan. I am always going to Shamkir with a great joy," he said, voicing belief that chess fans will enjoy the tournament.
Along with Shahriyar Mammadyarov and Teymur Rajabov from Azerbaijan, the event will host Wesley So (USA), former world champion Vladimir Kramnik (Russia), Sergey Karjakin (Russia), Michael Adams (England), Pentala Harikrishna (India), Pavel Eljanov (Ukraine), Radoslav Voytasek (Poland) and Bulgarian world champion Veselin Topalov. 
The grand opening ceremony will be held at the Heydar Aliyev Center in Shamkir on April 20. The nine-round tournament will end on April 30. Total prize fund is €100,000 and €25,000 for first place.