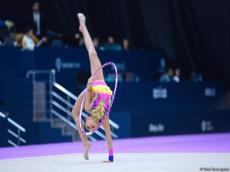 By  Trend
The second day of the 23rd Baku Rhythmic Gymnastics Championship and the 2nd Azerbaijan and Baku Aerobic Gymnastics Championship kicked off at the National Gymnastics Arena in Baku Dec. 2.
On the second day of the competitions, along with rhythmic gymnasts, representatives of aerobic gymnastics will demonstrate their skills. The athletes included into the categories of children (7-8-year-old), youngsters (9-11-year-old), pre-juniors (12-14-year-old), juniors (15-17-year-old) and seniors (18-year-old and older) will compete in the individual and trio programs.
In total, 141 gymnasts will represent Baku Gymnastics School, Ojag Sports Club, Gomrukchu, Sarhadchi, Spartak clubs, Sports Society of the Ministry of Internal Affairs, Republican Complex Sports School and Shaghan Olympic Sports Complex.