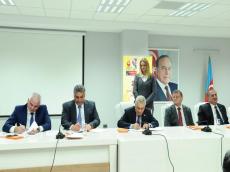 By Azernews
By Laman Ismayilova
Azerbaijan will host another major sporting event next year - the Women's European Volleyball Championship.
A ceremony on signing of a relevant agreement was held in Baku on November 23. The event was attended by Youth and Sports Minister Azad Rahimov, President of Azerbaijan Volleyball Federation (AVF) Javid Gurbanov, President of the European Volleyball Confederation (CEV) Aleksandar Boricic and other officials.
Rahimov, addressing the event, voiced confidence that Baku's hosting the 2017 Women's European Volleyball Championship will leave a trace in the history of the sport.
"We will try to hold the championship at the highest level. For the first time the Championship will be held in two countries. I want to thank the President of Azerbaijan, AVF President and CEV management for organization of the event", he said.
The Championship will be held from September 20 until October 1. Along with Azerbaijan, it will also be held in Georgia. Only one group matches and 1/4 final matches will be held in Georgia, while other 2 groups will compete in Goygol and another group in Baku.
The semifinals and finals will take place in Baku.  Totally, 6 teams will participate in the championship.
The Championship will bring together teams from Azerbaijan, Georgia , the Euro 2015 winners -Russia, Netherlands and Serbia, as well as Turkey and Germany. At the end of the qualifying stage Italy, Belgium, Poland, Croatia, Bulgaria and Belarus, in "play-off" round - Czech Republic, Ukraine and Hungary joined them.
Volleyball has become a favorite sport in the middle of the last century in Azerbaijan.  The formation of volleyball in the country dates back to 1926. After regaining the independence in 1992, the country began to participate at international competitions with own national team. 
The Azerbaijan Volleyball Federation was established in the country in 1992.