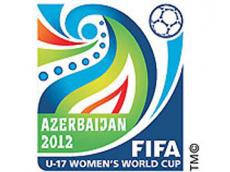 FIFA U17 Women's Cup Azerbaijan 2012 draw will be made at 19:00 on 6 July 2012 in International Mugam Centre in Baku. 
Teams of China, Japan and North Korea from Asia, New Zealand from Oceania, Nigeria, Ghana and Gambia in Africa, the United States, Canada and Mexico from North America, Brazil, Colombia and Uruguay in South America will be involved the ceremony. Azerbaijan is a host of the championship. Two teams from Europe will be known after the matches played on 26-29 June. Alongside with Azeri veteran players the event will be attended by the following gusts: 
      Head of FIFA U17 Women's Cup Organising Committee Hany Abo Rida;
      UEFA Executive Committee member Karen Espelund;
     President of Georgian Football Federation Domenti Sichiniva;
      Georgian Football Federation General secretary Revaz Arveladze;
      Veteran players Vagiz Khidyatullin, Igor Kolivanov, Viktor Losev;
    Germany national team former player Ditmar Hamann;
      Holland national team former player Ronald de Bur;
     Head coach of football club Kayserispor Shota Arveladze;
      Representatives of participant-teams; 
The honored artist of Azerbaijan Sevda Alakberzade and famous German singer Oceana will perform at the event in International Mugam Centre. After the ceremony at 21:00 at the National Park there will be arranged a concert with participation of Azeri pop singers Roya, Tunzala Aghayev, a friend of the FIFA U17 Women's Cup Azerbaijan 2012 Chingiz Mustafayev as well Kitty Szacs, a world champion of freestyle football in 2011 and football acrobats. 
/
AFFA
/