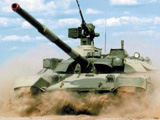 Russia tops the list of world exporters of main battle tanks (MBT), delivering  foreign customers 482 new tanks in the amount of 1.57 billion dollars in 2006-2009, Director of the Center for Analysis of the Global Arms Trade (CAGAT) Igor Korotchenko said. According to the CAGAT estimations, in 2010-2013, the volume of Russian exports in this segment of the arms could reach 859 new tanks in the amount of 2.75 billion dollars.
"Currently, India is the largest buyer of Russian armored vehicles," Korotchenko said.
Under the contract of 2001, India received 310 T-90S tanks. India will increase its tank fleet by another 347 T-90S MBT under 2007 contract.
In the past few years, Russia has signed contracts on supply of new tanks to Algeria (185 units of T-90C), Venezuela (92 units of T-72M1M), Cyprus (41 unit T-80U/UK) and Turkmenistan (10 units of T-90C).
Russia also delivered 62 units of T-72 to Azerbaijan and 23 units T-55/T-72 to Uganda. There are several programs aimed at modernizing tanks of foreign customers: Algeria (250 units of T-72C), Libya (145 units T-72) and Syria (1000 T-72).
CAGAT experts say the world market of new main battle tanks expects growth of about 20% in the coming 2010-2013 over the previous three-year period (2006-2009). Russia's main rivals in the global market of tanks are the U.S. and Germany, CAGAT says.
/Vesti.az/