Modern Art exhibition is held in the exposition hall of the UNO section in Geneva on the occasion of the 60th anniversary of signing the UNO Regulation.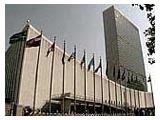 The official opening ceremony of the exhibition was on 26 June, 2005 and it will last till 26 October.
According to the information given to APA from the press service of the Foreign Ministry Azerbaijan artist Mir Ismayil Jafarov's work "Play, tar" is exhibited in the exhibition. The UNO section in Geneva prepared the catalogue of the artistic works displayed in that exhibition. The catalogue contains information about the artistic work of Azerbaijan.
It must be noted that, besides Azerbaijan, only Russia, Byelorussian and Ukraine from the CIS countries were represented in the exhibition.