The art exhibition of Azerbaijani artist Ashraf Heybatov will be opened in Mainz on 14 September at initiative of the Azerbaijani 'Mainz' Society functioning in the German Federative Republic, Bashar Komur, the chairman of the Society told the State Committee on Azerbaijanis Living Abroad.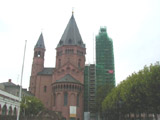 As Trend reports,  the 'Colors of Eurasia' exhibition will be held in the hall of the Mainz municipality from 14 September to 8 October with participation of Berin Tulun, the Turkish Consul General, and Peter Kravietz, the Germany Senator on Culture.  
The Azerbaijani flag will be raised in the central square of Mainz and the stand dedicating to Azerbaijan will be presented to the residents of the city in this regard.