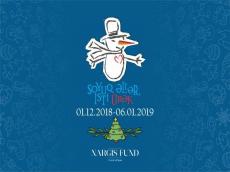 By Azernews
By Narmina Mammadova
It is in the new year that people increasingly think about what they managed to do this year, about their good and bad deeds. The atmosphere of this holiday itself encourages people to do good deeds and help those in need.
The Nargis Fund will hold another charitable fair "Cold hands, warm heart" on the Fountain Square from December 1 to January 6, 2019, Trend Life reported.
The high-level event will be supported by Azerish?g OJSC, Baku Abadl?g Hidmati LLC and Pasha Security, as well as the main sponsors Boutique One, Azercell, Shamakhi Palace, Azerbaycan chay?, Berg, Balkhoorma, Zeytun baglar?, Muganbank "and Coca-cola.
The concept of a charity fair this year will be different from previous ones and will become more memorable. The charity fair will be held for the sixth time. By tradition, all funds raised from the event will be used for the treatment and surgery of children suffering from various diseases.
Honorary guests of the fair will be residents of orphanages, who are waiting for entertainment programs, interesting events and gifts from sponsors. In 47 houses set on Fountain Square, everyone will be able to purchase Christmas gifts, souvenirs, books, clothes and much more.
In the small cozy cafes you are waited by tea, coffee, as well as other cold and hot drinks and various delicacies.
Nargis Fund was created in 2012 by the editor-in-chief of the Nargis magazine Ulviyye Mahmudova. The project aims to continue the traditions of charity in Azerbaijan, and since 2013 it has started active work. It was then that the beginning of a good tradition - the holding of a charity fair "Cold hands, a warm heart" was laid. Since its foundation, a number of charity projects have been organized; material assistance has been provided to orphanages and elderly homes, low-income families, as well as treatment and operations for children suffering from various diseases.
Detailed information about the activities of the foundation and the "Cold hands, a warm heart" fair is available on the official website of nargisfund.com, as well as on the official pages of the foundation on social networks:  Facebook  ,  Instagram .
Media partners are Azernews.az, Trend.az, Day.az, Milli.az.