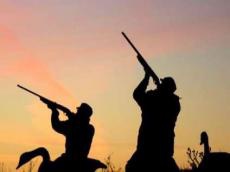 By Azernews
By Narmina Mammadova
The Azerbaijani Ministry of Ecology and Natural Resources (MENR) has detained 63 poachers in the six months,the Director of the Department for the Protection of Biodiversity and the Development of Especially Protected Natural Territories under the Ministry Hikmat Alizade said on October 11.
He noted that 56 guns and more than 110 cartridges were found and seized from 56 detainees.
"There are also foreign citizens among these persons who have come to Azerbaijan as tourists. Cases of illegal hunting have increased over the past three months and 50 poachers were detained only during this period," Alizade said.
Foreign citizens should contact companies that organize hunting on the basis of cooperation with the Ministry of Environment, the ministry said.
Earlier, the MENR published a list of animal species that can be hunted in the country. It is allowed to hunt a hare, a boar, a sandpiper, a goose, a duck and a coot in the country in the hunting season of 2018-2019.
Hunting on the territories of Agdam, Goranboy, Dashkesan, Gadabay, Geygel, Tartar districts and on the territory of other border administrative districts, as well as in the frontline zone, on the islands of the Caspian Sea, in the green zone,on sites closer than 1.5 kilometers to the city and resorts, specially protected areas, sanitary security zones is forbidden.
Popular hunting regions in the country include Shamakhi, Sheki, Oguz, Gakh, Imishli, Gubin, and Ismayilli.
Hunting without proper authorization, in restricted areas, in the forbidden time or by prohibited tools and methods, and if this act entailed causing significant damage, is punished. Thus, the ministry conducts regular raids to study the situation with observance of the requirements of the laws "On hunting" and "On fauna".
There are various fines for environmental damage. For example, according to Article 100 of the Code "On Administrative Offenses", individuals are charged a fine of 200-500 manats ($117-293), officials - in the amount of 2,000-3,000 manats ($1,175-1,762), legal entities - in the amount of 6,000-7,500 manats  ($3,525-4,406) for the destruction of the fauna.