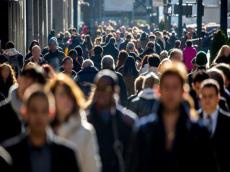 By Azernews
By Abdul Kerimkhanov
The number of Azerbaijani population increased by 52,427 or 0.5 pct and reached 9,950,512 people in January-August 2018.
The State Statistical Committee reports that the population density is 115 people per square kilometer.
As many as 52.9 percent of the population comes from urban area, while 47.1 percent is rural residents. Of the total number, 49.9 percent accounts for males and 50.1 percent - for females. At present, there are 1,005 women per 1,000 men.
In January-August of the current year, the city registration departments of the Ministry of Justice registered 90,523 births or 373 births per day, and this figure was 13.8 per 1,000 population. As many as 53.1 percent of infants are boys and 46.9 percent are girls. Of the total amount of births, 1,680 are twins and 78 are triplets.
In January-August 2018, 39,496 deaths were registered in the country and this figure was 6 per 1,000 population.
During the first eight months of this year, 40,235 marriages and 9,877 divorces were registered and the number of marriages per 1,000 people was 6.2 while the number of divorces stood at the level of 1.5.
In January-August of the current year, the Ministry of Internal Affairs and the State Migration Service received 2,387 people from Azerbaijan and 987 of them for permanent residence. The positive balance of migration was 1,400 people.