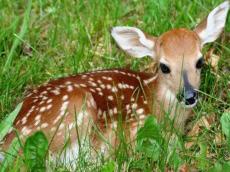 By Azernews
By Laman Ismayilova
Gazelles are thin, graceful antelopes that live in Africa and Asia. They resemble deer and are in the same family as goats, cattle and sheep. Gazelles can be identified by their curved, ringed horns, tan or reddish-brown coats and white rumps.
Since ancient times, they have occupied a unique place in the literature, folklore and art of the Azerbaijani people. For centuries all poets from the great romantic and epic poet  Nizami Ganjavi to Samad Vurgun praised the  beauty of these animals.
So it is not surprising that appreciated for its grace, gazelle is a symbol most commonly associated in Azerbaijan with female beauty.
In the early 20th century, gazelles grazed the Mil-Karabakh, Mugan and Shirvan plains of Azerbaijan. The names of some places also carry the memory of past inhabitants - Jeyranchel, Jeyranbatan, Jeyrankechmez.
Now Azerbaijan's Shirvan National Park is home to at least 6,000 gazelles and an ambitious programme is under way to reintroduce the gazelle to its historic habitat in other parts of the country and the Caucasus.
The Ecology and Natural Resources Ministry of Azerbaijan in collaboration with the Heydar Aliyev Foundation, IDEA, and WWF initiated a  project to re-introduce the gazelle to its historical range.
Currently, areas suitable for the re-introduction of the gazelle include five nature reserves (40,000h), three national parks (73,000h), and four sanctuaries (51,000h).