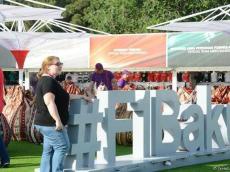 By Amina Nazali
Bewitching noise of high-speed sport cars has surrounded Baku on this windy day as the city hosts its first-ever Formula 1 race.
Thousands of Formula 1 fans have come to the country to become a part of this rich motor race.
Vugar Shikhammadov, Head of Information and Public Relations Department of the Culture and Tourism Ministry, said that Baku hotels can accommodate about 15,000 people and if to include rented apartments the capital is able to host about 20,000 visitors.
Saying that the organizers have made huge efforts so that tourists could enjoy their holiday in the city, Shikhammadov noted that holding the F1 race in Baku will increase the flow of tourists.
Expert Ruslan Guliyev claims that hosting of international competitions in the capital has become a tradition for Azerbaijan.
"By hosting major sporting events such as the first European Games, the Formula 1 European Grand Prix, and other world championships in various sports, Azerbaijan is establishing itself as an important player on the world sports arena," he believes.
Guliyev expressed confidence that after the Formula 1 in Baku, the interest of tourists to the country will increase in times.
"Millions of fans will see this competition. Viewers will be able to enjoy not only the race, but also a wonderful view of our Baku. Foreign journalists, who will arrive in Azerbaijan, be sure to tell in their publications not only about racing, but also about our country. This is very important in terms of popularization of Azerbaijan abroad," the expert emphasized.
The length of the race track, which will feature 11 teams, each represented by two pilots, is six kilometers away.
Baku City Circuit is the second longest F1 track on the calendar. Many describe this track as the most complex, entertaining and very curious, for both racers and spectators.