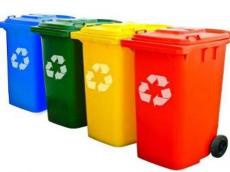 By Aynur Karimova
It sounds a bit paradoxical, but there is no universally accepted definition to 'waste'. Usually, all definitions are based on the assumption that waste is a kind of substance, the owner or producer of which tries or ought to get rid of it.
One science fiction writer of the last century made an unexpected prediction about the future of humanity, supposing that the main danger of terrestrial civilization would come not from an attack of extraterrestrial intelligence, or global climate change, but from a more banal thing -- abundance of garbage.
The way out for this global dangerous challenge is considered to be the recycling of waste through pre-sorting. Separating the different elements found in waste streams is essential for enabling the recovery of useful materials, thus minimizing the amount of material sent to landfills, and allowing recyclable materials to find a new incarnation.
The separate collection of waste was applied in Azerbaijan in Soviet times. There was a practice of separate collection of waste. Citizens delivered empties, waste paper and scrap metal separately. In return, they received some bonuses as incentives.
The separate collection of waste is carried out only in Icheri Sheher and the Gala village of Baku, while such a practice in the country's regions is applied only in the Kirovka village of Shamakhi.
Azerbaijan is determined to continue works towards this. It is planned to sort the waste in the Balakhani landfill focusing on electronic waste. An industrial park engaged in the recycling of electronic waste is being established there as well.
The country has already established Tamiz Shahar, a state joint stock company subordinated to the country's Economy and Industry Ministry, engaged in the accommodation and recycling of household waste and the separate collection of waste.
Waste sorting should start in streets
Ecologist Telman Zeynalov believes that engagement of only one organization in the separate collection of waste is not enough for Azerbaijan's 9.5-million population.
He told local media that the sorting of waste should start in the streets of the country, and support the work carried out by Tamiz Shahar.
"But in this case the first step should be the equipment of streets with a great enough number of garbage containers designed for different types of waste -- glass, plastic, paper, textile and food waste," he noted.
The ecologist proposed to collect food garbage in a form of special slides with porous tubes inside to be used in the production of compost or biogas.
"In addition, it would be possible to negotiate with the owners of shops engaged in selling household appliances to receive old appliances and in return, make discounts in purchasing new refrigerators, televisions and so on. All these measures would greatly simplify the tasks associated with the recycling of waste in our country," Zeynalov noted.
Touching upon the pollution of the capital's streets by citizens, Zeynalov said everything should start at a street level by attracting volunteers to this work. "The volunteers, consisting of young people, students, would patrol the streets of the city. When encountering those individuals who litter, volunteers would be able to penalize them," he said.
The enlightenment work is also of great importance in this issue.
"The Azerbaijani population is not practically enlightened when it comes to pollution and household waste. I am sure that if the printed and TV media outlets were to raise this issue, the responsibility of citizens for the cleanliness of the city would increase," he concluded.
Enlightenment work among school children, setting containers in schools for separate collection of garbage and informing them about global ecological problems arisen from environmental pollution are of significant importance as well.
Waste sorting is economically beneficial
Nariman Agayev, chairman for Research on Sustainable Development Center, said that separate collection of waste is not only an economically beneficial initiative in terms of profit, but also a good chance to create new working places.
"Thanks to the separate collection of waste the government can create up to 10,000 new working places in the capital and 50,000 - 60,000 in the regions. To talk about income, which can be earned from the collection and recycling of waste, it can bring a person engaged in this work a stable income. This is about 500-600 manats per month. But if we were to invest in this sector a certain capital, the revenues can grow dozens or hundreds of times," he told local media.
Agayev also said that today Azerbaijan recycles only car batteries from the waste, but he expressed confidence that the situation in this sector will change soon.
"Several trade networks specialized in the sale of appliances, carry out various sales promotion campaigns on receiving old household appliances, and in return the customer gets a discount coupon," he said.
"When I asked the manager of one of these stores what happens to the old appliances, he told me that soon companies will start operating in Baku, which will be engaged in removing rare and precious metals from these appliances," he added.
The cost of rare earth metals varies greatly depending on the area of their application, the difficulty of extraction, the demand for them and other nuances. For example, one kilogram of europium amounted to $1,700 in spring of 2011. Two years later the cost rose to already $4,500 per kilogram.
"Extraction of rare earth metals from electronic waste is a rather complicated and knowledge-intensive process, but if to approach intelligently, the government will only benefit, because we are talking about millions of dollars. There are a lot of electronic waste in our country, which contains rare earth elements, so why not to start making money from it?!" the expert concluded.