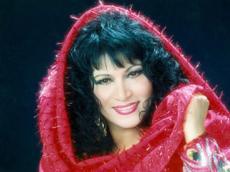 The foundation of Azerbaijani famous singer and people's artist Zeynab Khanlarova was established in USA. APA reports that the foundation was decided to be established after the Zeynab Khanlarova's concert in USA in April this year. The president of the foundation is Zeynab Khanlarova. The organization aims to help Azerbaijanis living in US as well as in Azerbaijan, orphan children, homes for elderly people, families of martyrs and also to workers of art and culture having some material problems.
Confirming this information to APA Zeynab Khanlarova considers creation of this fund is an estimable act: "I have been working for people for all my life, today I continue this mission. If my foundation makes needy people happy, I will also be very happy."
"I don't want anyone to suffer either in the world or in my county. My heart is aching when I see someone who is suffering. I want all people to have smiles on their faces and live very happily. Insh'Allah, this fund will make happy a lot of people".
/
APA
/