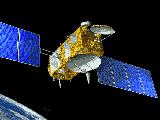 Iranian satellite 'Navid' will be launch into space by Safir satellite carrier in current solar year(started on March20,2011) after further tests, Mehr News Agency reported.
Domestically built satellite will be launch by Safir 1B and is currently being prepared to deliver to Aerospace Industries Organization for final testing this week.
The small satellite built by students in Iran University of Science and Technology according to ECSS standard , 'Navid' satellite weight 50 kilograms and will be use to take photo images.
/
Trend
/