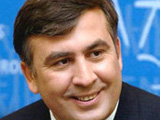 Georgian President Mikheil Saakashvili awarded France's highest award of the Order of the Legion of Honor. As reported by Trend in administration of the head of the Georgian state, President Saakashvili received this award today, from the hands of his French counterpart Nicolas Sarkozy.
President of Georgia received an award in the sign of knowledge of his merits. "I never imagined I would get one of the highest awards," - Saakashvili said. The President of Georgia briefed Sarkozy on the presidential palace, showed views of old Tbilisi from the yard of the residence.
French President Nicolas Sarkozy has left Tbilisi at 19.30 local time. Georgian TV channels broadcasted live the French president leaving from Tbilisi airport.
French head of state escorted Emergency Powers and the French Ambassador in Georgia Eric Fournier in the Tbilisi International Airport .
/
Trend
/