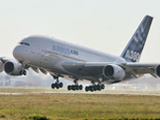 The first Iran-Ukraine made Antonov passenger plane would fly in the year 2013, Managing Director of Iran Airplane Manufacturing Company (HSA) Mohammad-Ali Sirati announced, IRNA reported on Wednesday.
"In order to match our Antonov planes with Iran's atmosphere, we would buy two planes of these series earlier than the scheduled date for our own planes' flights," Sirati said at a news conference with the Iranian and Ukrainian reporters.
"That plane would fly in Iran for a full one year period and since the conditions of the plane are constantly subject to changes, the parts of that plane, too, would follow suit," he said pointing out that the first plane of this type would fly in Iran in the year 2012.
The HAS managing director further reiterated, "At the end of those two planes' lengthy test flights the joint production of them would begin and the HAS and Antonov would cooperate in their manufacturing, and they would fly in Iranian skies in the year 2013."
On Monday, Deputy Defense Minister for Industrial Affairs Mohammad Islami announced that Iran may partially build the Antonov-158 plane jointly with Ukraine.
The new air vehicle with a seating capacity of 100 passengers will be the next generation of Iran-140 airplane, he added.
After purchasing the production license for the Antonov-140 from Ukraine in 2000, Iran built its first Iran-140 passenger plane in 2003.
Iran plans to export six domestically-built "Iran-140" passenger planes in the near future, Managing Director of Iran's Aviation Industries Organization (IAIO) Manouchehr Manteqi said on Tuesday.
/
Trend
/