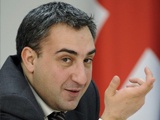 The Georgian government has allocated 600,000 lari ($1 = 1.66 lari) to eliminate disaster consequences in Eastern Georgia. Georgian Prime Minister Nika Gilauri made this statement at a government meeting on Tuesday.
Over the past three days eastern Georgia has witnessed several of its villages flooded, agriculture devastated, domestic livestock killed, and roads washed out.
As Gilauri said, if necessary, the government will decide how to allocate an additional sum. The Finance Ministry has already charged been with the corresponding task.
In turn, Deputy Regional Development Minister Jambul Bakuradze said that all the damaged bridges will be restored, roads cleared, and problems with water supply addressed by late this week.
/
Trend
/