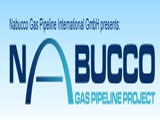 Just two days after announcing a date for the closure of Turkey's unopened nuclear plants on Monday, Turkey's Energy Minister Taner Yıldız was preparing to sign a support agreement for Nabucco, a project to carry Caspian natural gas to Europe via Turkey, in the absence of Azerbaijan, the probable supplier.
The support agreements, or PSA, are to be signed Wednesday to strengthen the inter-governmental agreement concluded previously, Yıldız told journalists Tuesday, Anatolia news agency reported.
The agreement will be signed by the energy ministries of the remaining six partner countries –Germany,  Austria, Hungary, Romania, Bulgaria and Georgia – and involved companies in the Central Anatolian province of Kayseri, where Yıldız is campaigning for the parliamentary elections on June 12.
"European Union Energy Commissioner Günther Oettinger and U.S. President Barack Obama's Special Envoy for Eurasian Energy Richard Morningstar will also come to Kayseri," Yıldız said.
The gas supply constitutes the biggest problem for the Nabucco project as Azerbaijan, the primary supplier, still hesitates to join. Azeribaijani officials earlier announced that they would not attend the ceremony in Kayseri.
Other potential sources are Iraq, Turkmen and Iran gas fields.
Meanwhile, all documents necessary for the transport of natural gas from the BP Plc-led Shah Deniz deposit in Azerbaijan to Europe "will soon be signed," Azerbaijan President Ilham Aliyev said Tuesday in Baku, Bloomberg reported.
Speaking to the Hürriyet Daily News on Tuesday, Emre İşeri, an international relations academic from Kadir Has University, said the world does not have a sufficient amount of natural gas. "We say the best seems to be the Shah Deniz and we rely on it. But we do not know how much natural gas is in Shah Deniz. We talk about the potential amount, but we do not know the proven amount. Turkmen and Iranian gas are important," he said.
Shah Deniz 2 may sell its natural gas to Europe via pipelines other than Nabucco, Mert Bilgin, an academic at the Department of International Relations in Istanbul's Bahçeşehir University, told the Daily News. "This is mostly related to when Nabucco will be completed. The sides of the Nabucco project, as we know, are revealing deals for production sharing. Therefore, I do not consider the statement of the Azeri President Aliyev concerning the future of the Shah Deniz 2 project," he said. "The Shah Deniz 2 may create alternatives to Nabucco."
Pipeline projects including the Nabucco project, the Trans-Adriatic Pipeline and the Interconnector Italy-Turkey-Greece link are vying for gas volumes from Shah Deniz 2.
/Hurriyet Daily News/