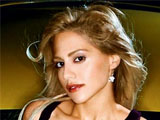 Women in Turkey are happier than men, according to recent data that has contradicted academics' opinions that argue the report is a manipulation tool that only proves people are happy about Turkish policies.
According to a study called "Women in Statistics," while 53 percent of women are happy, 51 percent of men are happy in Turkey.
The study, called "Life Sufficiency Search," showed that 31.2 percent of women are happy about their income, while 28.2 percent of men are happy about their income.
Emphasizing that happiness is parallel to human satisfaction with economic growth, Ali Çarkoğlu, a political scientist from Koç University, said the report is intentionally being used to show that the government is running the country well.
"These reports, unless they are not detailing people according to their sub-groups, will not show the real facts," Çarkoğlu told Hürriyet Daily News over the telephone. The report should also say whether a Kurdish woman who lives in a metropolitan area or a Caucasian woman who lives on a little farm are happy.
Women are behind men on representation in the labor force with 27.6 percent while men have 70.8 percent representation, the Women in Statistics report shows. In 2010, while 18 million men were employed, less than 7 million women were working.  
Between 2004 and 2010, the number of women who were discouraged to find a job tripled.
Associate Professor Kenan Çayır, from Bilgi University Sociology Department told the Daily News during a telephone interview, compared to the 80s, the hope of finding a job is decreasing in general but not only among women.
Although the number of female deputies has increased compared to 1999, when only 4.2 percent of Parliament members were women, Çarkoğlu said people should compare the number of organizations under the Prime Ministry.
"For example while an interior minister is managing more than eight different organizations,  on the other hand, a state minister responsible for the affairs of women and families only has one organization; this shows the amount of work of the ministries," Çarkoğlu added. According to him, women are prevented from increasing their numbers in state management or given less efficient ministries to run.
Kenan Çayır , on the other hand, said even when comparing the number of women deputies in Middle Eastern parliaments, women's presence in Turkey's parliament is very low.
"The data shows that nearly 800 women started to work for one newspaper/magazine in six years, which proves that a higher rate of men's deployment in media is not enough," Çayır said.
According to him the world is experiencing a global process which is a feminization of work fields; however it is not working in the higher positions.
There are few women on the board of the media companies, or only a few women are working as a editor-in-chief.
The report, which is the first national report prepared by provincial Turkstat directorate and based on initial statistics on women, was announced May 31, by İzmir Provincial Director Rıdvan Yaka, Anatolia News Agency reported Monday.
Yaka said, during the meeting, they prepared the report due to the requests from political parties, municipalities and non-governmental organizations.
/Hurriyet Daily News/